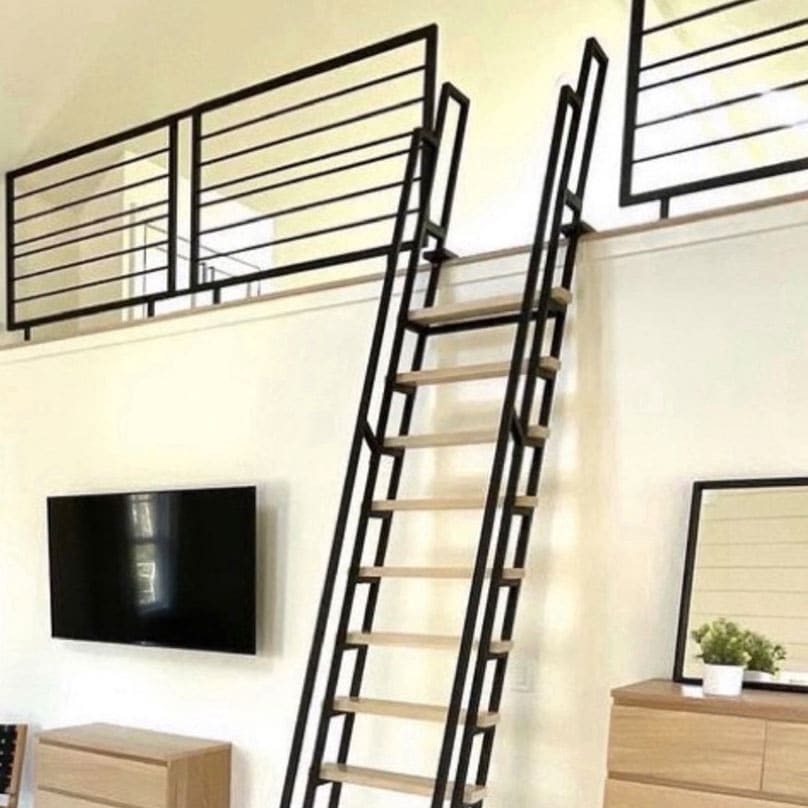 Custom Contemporary Loft Ladders & Railings
Are you looking for an attractive loft ladder for your loft space? Loft Living Room 62 specializes in designing custom loft ladders, railings, and loft stairs that will fit perfectly in your space. We utilize top-quality steel and solid wood products and expert engineering and construction to create our loft ladders. Find out how form and function combine our loft ladders with a large selection of woods and finishes to meet your design needs. 
Loft Ladder Videos
We ensure your loft ladder fits perfectly within your space. We have special sliding features to move the ladder in and out and left to right. See how effortless your loft ladder functions with these videos.
Wood & Steel Loft Ladders
Our loft ladders features a custom contemporary design that you can customize with different finishes to fit your decor.
Free Shipping + Easy Installation
 All of our loft ladders' prices include free freight shipping. Our loft ladders are shipped fully assembled with all hardware included. Loft Living Room 62 loft ladders are very easy to install, with only a few screws needed to complete the installation.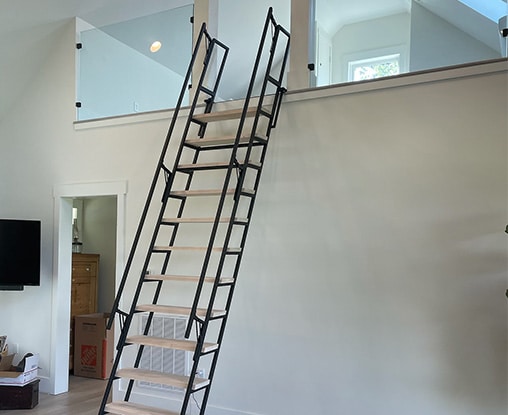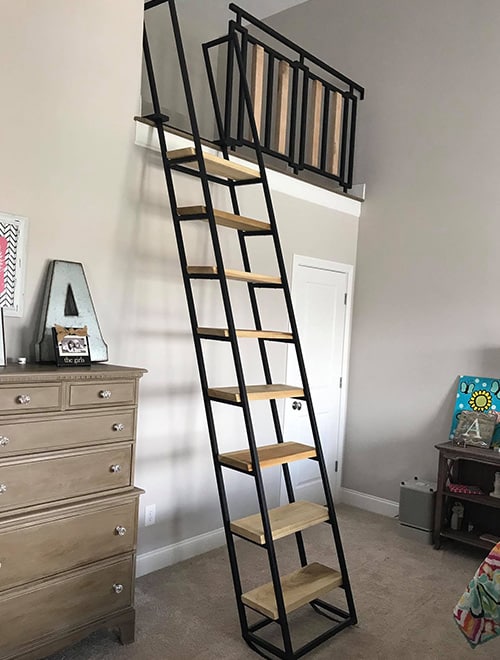 Library Ladders – Rolling Ladders
Loft Living Room 62 can design a rolling ladder system for libraries, kitchens, closets, and other spaces that require ladder access. Contact us to discuss your space and design needs; we will work with you to develop the perfect ladder for your space.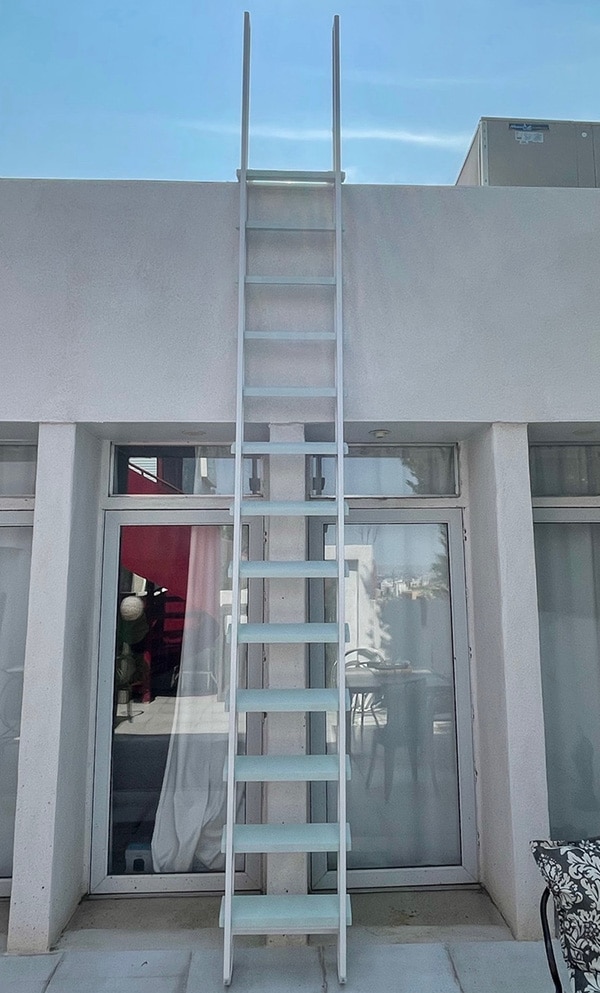 Why Waste a Sunset? - Permanent Roof Ladders
Our Permanent Fixed Roof Ladders are much more stable than lean-to cheap aluminum ladders and allow you easy access to your roof to enjoy our beautiful sunsets. 
Custom Loft Ladder Sizes & Colors
Our loft ladders come in standard sizes ranging from 7ft to 10ft. Room 62 specializes in building each loft ladder individually to ensure equally spaced steps from the base floor to the loft floor. In addition, we can customize your loft ladder with retractable features, sliding options, and other customizations. We will work with you on the dimensions of step width, distance into the room, and angle so your loft ladder functions exactly how you need it in your loft space.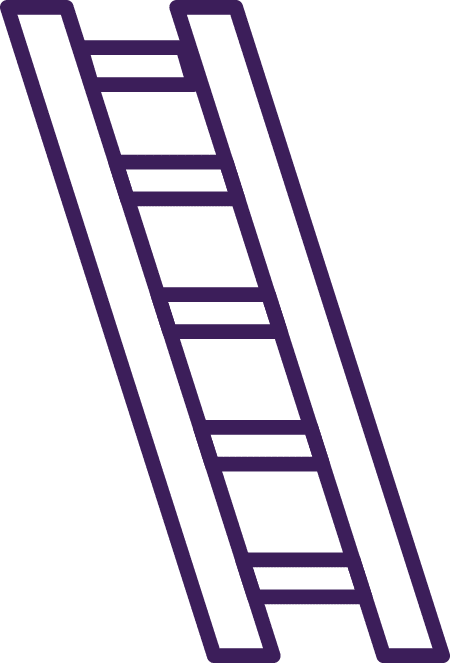 High-Quality Steel Frame
All of our loft ladders are constructed from high-quality steel, and the metal is available in white or black finishes with powder coating finishes available for an additional cost. Additional colors are available upon request.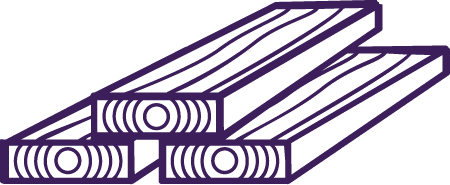 Solid Wood Stair Treads
Our wooden treads (stairs) are constructed from high-quality poplar wood and come with a clear protective coating and can be custom stained to match your décor.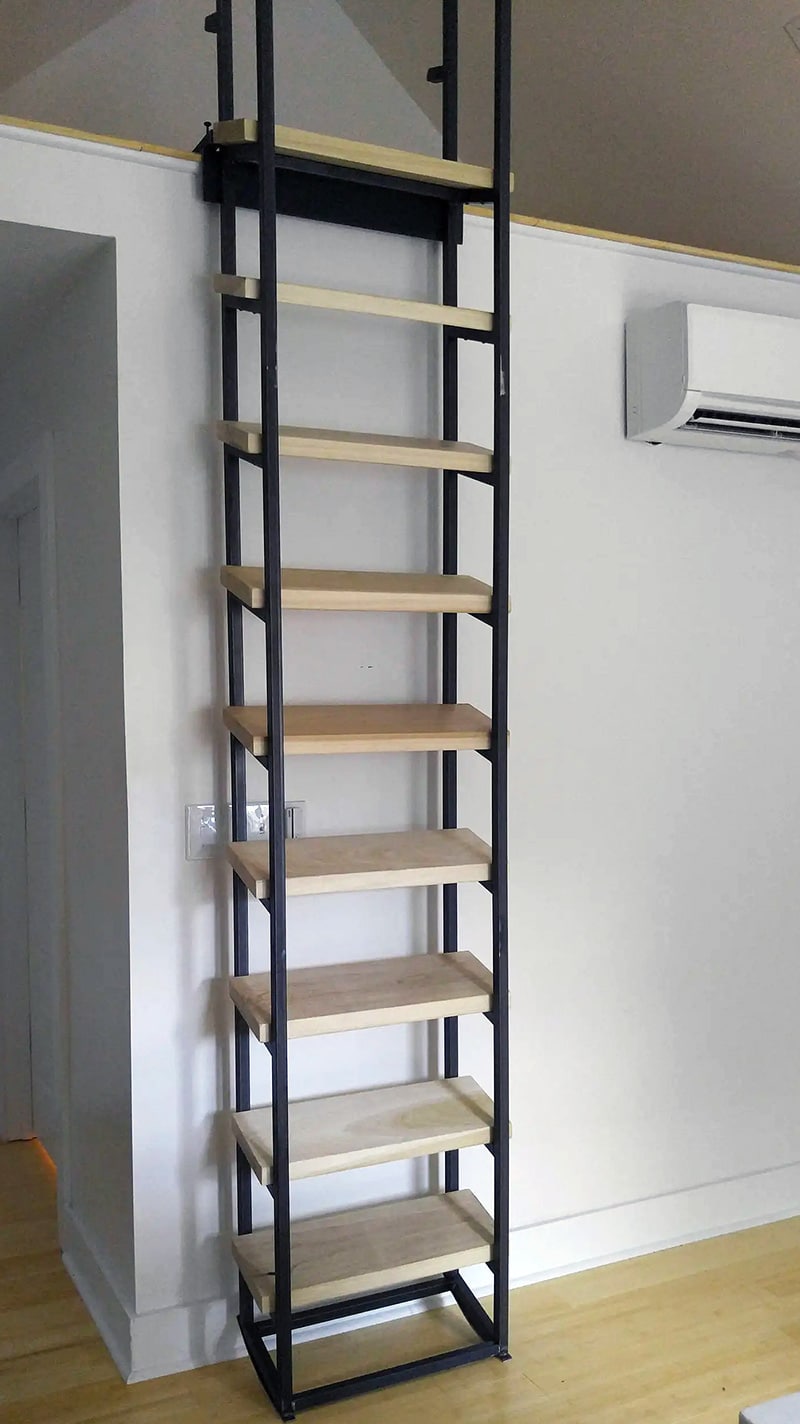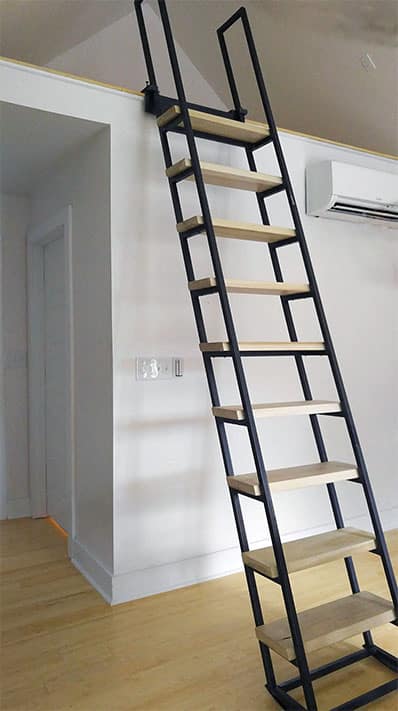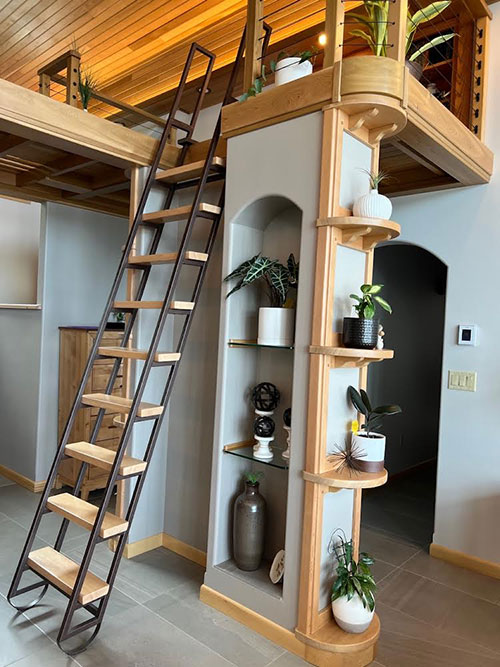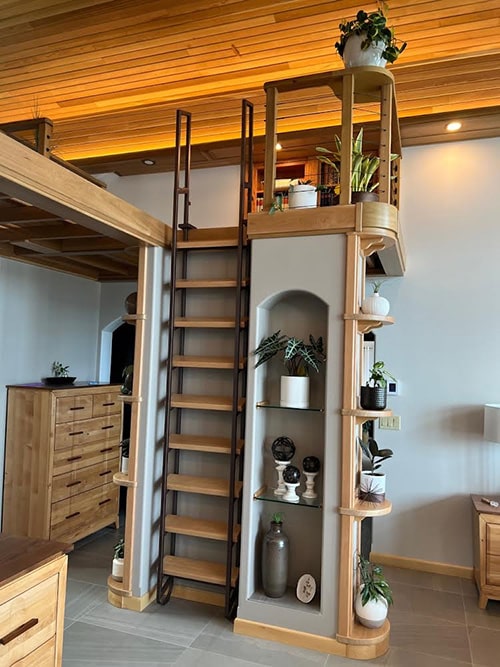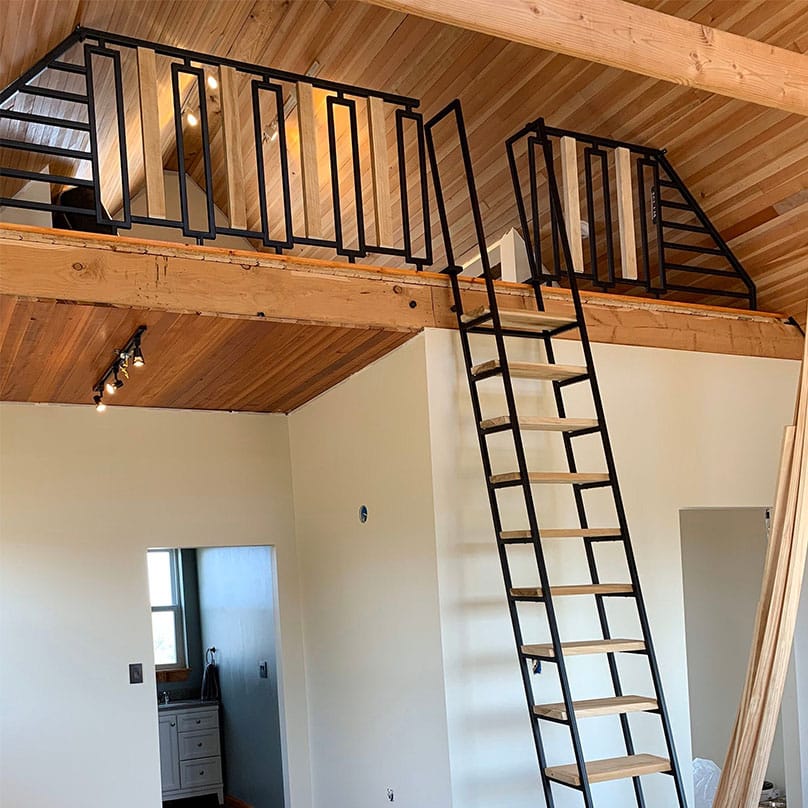 Featured Item
8 FOOT RETRACTABLE LOFT LADDER
(SHIPPING INCLUDED)
This ladder is designed to fit in any home and is made with high-quality steel and poplar treads. Each ladder ships fully assembled and all hardware included with only a few screws needed for installation.
The standard ladder had a 4-foot retraction, a width of 22 inches, and a depth of 6 inches. Each ladder is custom crafted by hand to your precise measurements.
Freight shipping is included in the price to all domestic USA addresses and now shipping to Canada.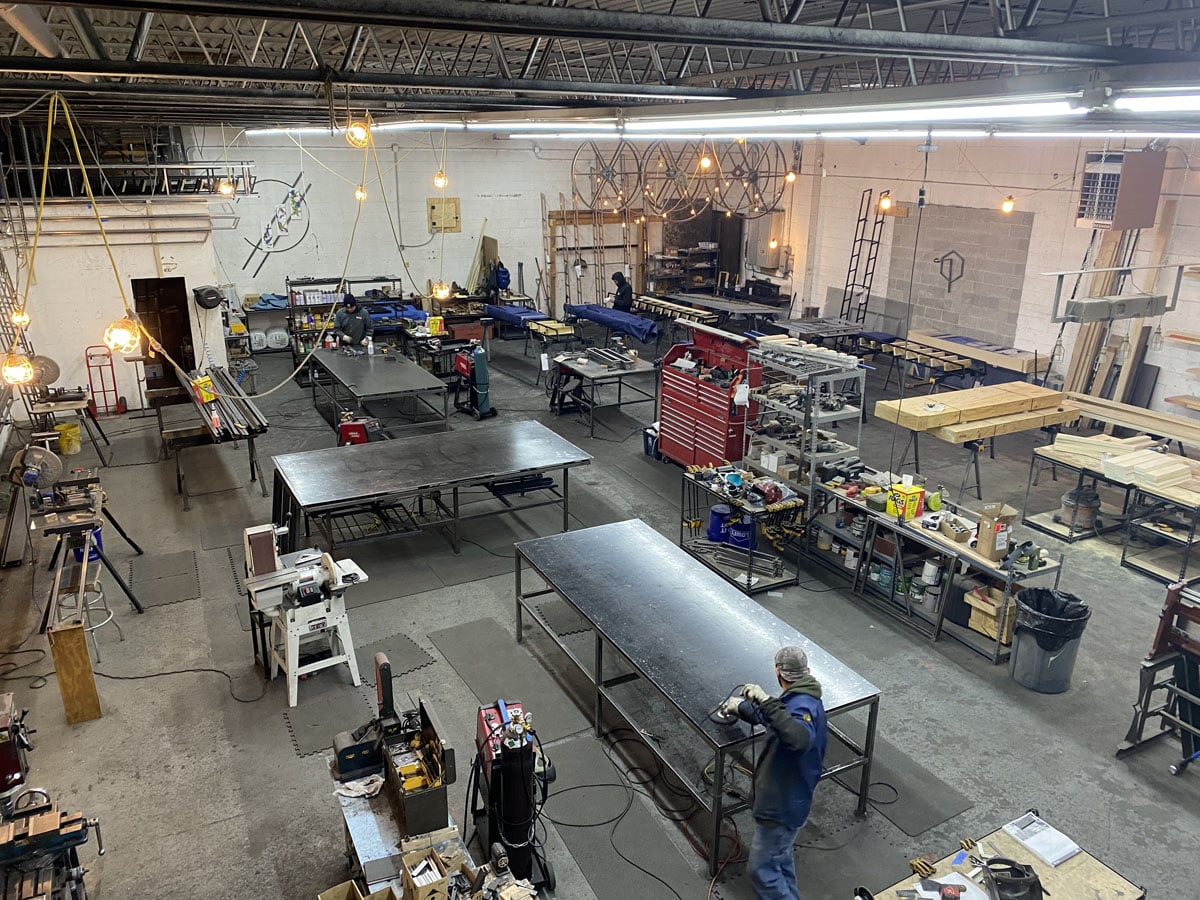 Each loft ladder is custom-made to your measurements in our Albuquerque, New Mexico Design Studio and Fabrication Shop.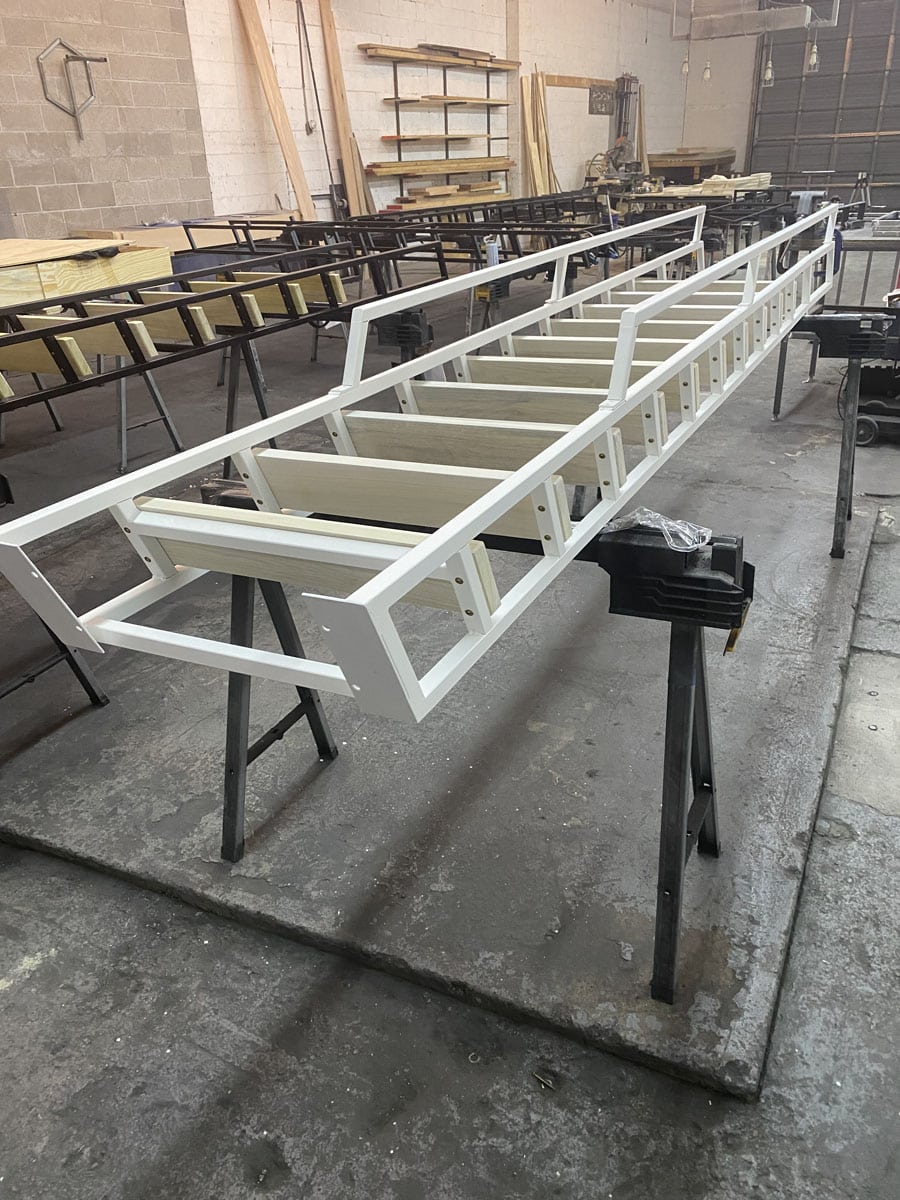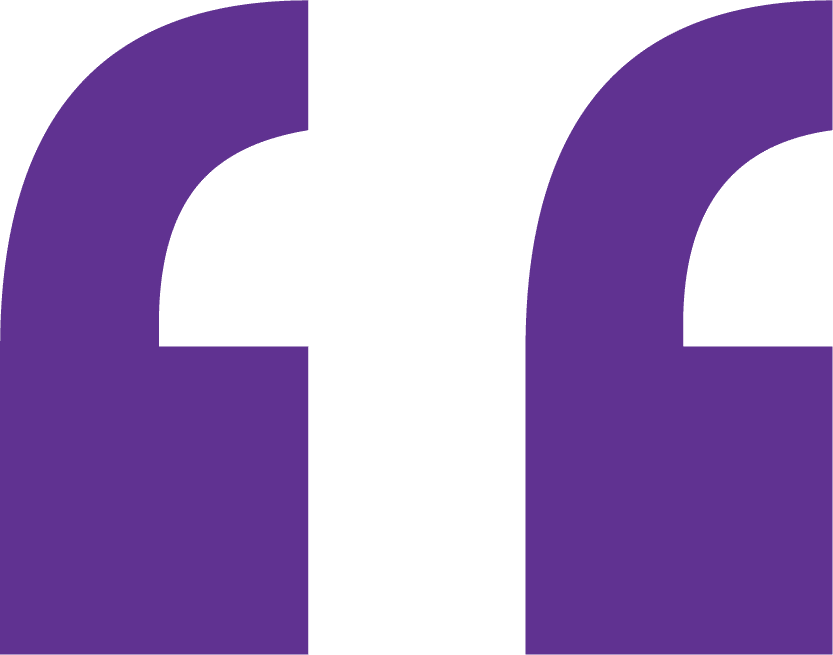 Simply Incredible
"This ladder is simply incredible. Ted was extremely responsive and provided updates throughout the timeline we discussed. Additionally, the minute it shipped we were alerted by Ted and it arrived quite quickly. The craftsmanship is 100% more impressive than I could have expected. THANK YOU ! … and everyone else… don't hesitate, just order it already!"
-From Dana on Etsy
Highly Recommended
"Extremely nice loft ladder we are so happy with it!! The workmanship and construction is top quality. Highly recommend this company. Good communication and fast response to questions. This was exactly what we were looking for for our loft."
-From Adam on Etsy
Easy to Install. Easy to Use.
"Beautiful piece! Easy to install. Easy to use. And Ted was a wonderful seller to work with."
-From Charlotte on Etsy